From White Bear Enterprises:
© 1996 White Bear Enterprises, All Rights Reserved
---
We Proudly Introduce You to an Exciting New Book:
"GRAVIKORDS, WHIRLIES & PYROPHONES"
---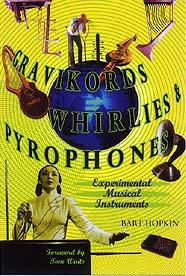 A 96 Page Full Color Book With 90 Photographs And A 73-Minute CD Celebrating 37 Outrageously Inventive Designers And Builders Of New And Unusual Musical Instruments!

"Sit back and enjoy the flight." - Tom Waits
Read more about the Gravikord in a historical context of American musical instrument inventors including Harry Partch, Robert Moog, Richard Waters, Leon Theremin and many more. The CD features 18 original performances by selected inventors, including "Piccadilly" by Bob Grawi on the Gravikord.
SEE - THE TRIGON INCANTOR!
HEAR - THE AQUAVINA!
MARVEL AT - THE HOLOGLYPHIC FUNKALIZER!
BE ASTOUNDED BY - THE BUCHLA 400!
WONDER AT - THE SEMI-CIVILIZED TREE!
BE STUPIFIED BY - PNEUMAPHONES!
and of course, WITNESS - THE GRAVIKORD!
This coffee table book-CD published by Ellipsis Arts has a forward by Tom Waits and was written and produced by Bart Hopkin, the editor and publisher of Experimental Musical Instruments
SORRY THIS ITEM IS NOW OUT OF STOCK.
---
The Gravikord is a patented invention and a registered trademark of White Bear Enterprises, all rights reserved.
---

Press this Button to Send an Order or Email Message to White Bear Enterprises
---
[ Home Page ] [ Performances & Booking ] [ Gravikords Whirlies & Pyrophones ] [ Gravikord at the Met ] [ The Whale Bone Bass ] [ Instruments ] [ EMI Article ] [ Chess In The Round ] [ Bobarangs & Bookmarks ] [ Bob's Endless Seltzer ] [ Manual Updates] [ Ensemble Bios ] [ Parts List ] [ St. John Serendipity ] [ Hyper-Links ]